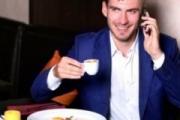 The matter is that getting food during a meal, the stomach secretes digestive juice in the quantity necessary for the digestion of this food. If you drink the water directly to the food, it will disturb the concentration of hydrochloric acid and enzymes in the stomach.
While eating drinking non-carbonated water valid, if it's dry food, for example, sandwiches, cakes, cookies. If you can not imagine my life without soda water, you can drink, but after about half an hour after a meal. It is best to drink water half an hour before meals and at least 30-60 minutes after a meal.

Com-Eva: 0
You are reading news Запивать пищу опасно для желудка if You liked the article Запивать пищу опасно для желудка, prokomentiruet her.
| | |
| --- | --- |
| an html link to the article | |
| BB-link to the article | |
| Direct link to the publication | |