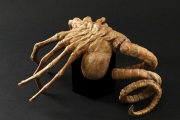 Most of us don't believe in aliens, but looking at these strange fossils, we probably need to think about. This finding, whose age is 300 years, is actually an ancient fossil, which formed the basis of the classic science fiction film by Ridley Scott's "Alien".
However, according to scientists, this fossil of a creature is an alien life form, but in fact represents the remains of early life forms that existed on our planet 300 million years ago.
This is extremely rare fossil caught the imagination of the public, when it was exhibited at an exhibition in Switzerland. However, it attracted the attention of thieves who stole it right from the exhibition. Police this week published a photo of the remains in an attempt to find the exhibit. And today this invaluable part of the exhibition was returned.
According to the scientists this is a truly remarkable exhibit of fossil creatures that demonstrates two separate species of invertebrate animals that live at the bottom of the sea about 300 million years ago.

Com-Eva: 0
You are reading news Жуткая рука присоска из фильма «Чужой» реальна if You liked the article Жуткая рука присоска из фильма «Чужой» реальна, prokomentiruet her.
| | |
| --- | --- |
| an html link to the article | |
| BB-link to the article | |
| Direct link to the publication | |