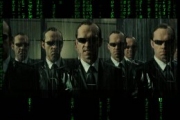 Scientists will be able to check in our universe agents from the Smith. In their study, the researchers proceeded from the methods of computer modeling of the processes that exist at the moment and what is happening in the world of elementary particles.
The computer processes simultaneously the four-dimensional lattice quantum States is temporary and three spatial dimensions.
During their research, the scientists managed to find out that, with the development of technologies at this stage to describe our world is possible only in a very small amount that does not exceed the atomic nucleus. But the development of computer technology will soon significantly increase this amount.
To detect the presence of a virtual model of the experts are going through the observation of cosmic rays of high energy. If we are all fruits of complex computer program, the space should be anisotropic, i.e. on different directions rays will behave very differently.
But even if nestrpnosti space is proved, a physics Professor from the University of Minnesota Jim Kakalios argues that this does not mean apparent existence of a system of computer simulation. That's only to show that time and space have characteristics that mankind did not know.
In any case, according to the researchers, no matter surrounded whether we virtual space or all around really, in our lives that will not be affected in any way.

Com-Eva: 0
You are reading news У времени и пространства есть особенности, о которых человечество раньше не знало if You liked the article У времени и пространства есть особенности, о которых человечество раньше не знало, prokomentiruet her.
| | |
| --- | --- |
| an html link to the article | |
| BB-link to the article | |
| Direct link to the publication | |