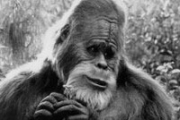 The popularity of "Bigfoot" has always been quite high. The regional administration of Tashtagol district of Kuzbas have decided to poeksperimentirovat this subject and to build near ski resort Sheregesh "residence Yeti. It is planned that it will be a village with accommodation facilities for tourists, house of the snow man, the Museum and the Park.
As a starting point of creation of the Park was the fact that for many years there are rumors of snow man who supposedly lives in Kuzbass taiga in the South of the Kemerovo area. Eyewitnesses tell that published these creatures are basically like brown bears, but footprints in the snow like human. Local hunters often face them and describe them as two-meter high red-black hairy humanoid creatures, moreover, well climb trees.
Here was even equipped with a special expedition. Anthropologists Kemerovo University, which was part of the group. Believe it miraculously preserved to our days relic hominid species of Primate.
Scientists then managed to find not only footprints in the snow, but the place of possible breeding grounds, as well as special markers that snow creatures mark their territory. It looks like the snow man is, after all, not speculation, but a real being.

Com-Eva: 0
You are reading news Парк имени снежного человека if You liked the article Парк имени снежного человека, prokomentiruet her.
| | |
| --- | --- |
| an html link to the article | |
| BB-link to the article | |
| Direct link to the publication | |