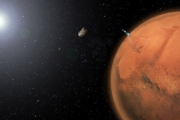 Student of NAU can go to live on the Red planet. 22-year-old Kyiv student Dmitry Nosov in 2023 may become the first Ukrainian leg which sets foot on Mars.
Dima study in NAU engineer-mechanic on service of ground equipment of airports and have already sent the application form for participation in the Mars One (Dutch initiative on establishment of a permanent human colony on Mars and broadcast of what is happening in reality shows). Selection of participants will take place in four stages: acceptance of applications, the first screening of candidates for health, the national selection (in each country will select the best candidate) and drafting groups of the deadline (6 groups, each of which will consist of two men and two women. These people 8 years will be preparing for the flight, and at least four most worthy of them will go to Mars and will remain there permanently), according to "Today".
Originally Dmitry not planned to send the application form for participation: "I learned about the project from the news and just wrote that with pleasure will help as a volunteer", - says Dima. After that he personally replied one of the leaders of the project scientist Norbert Kraft, they talked on Skype, and Norbert sent to the Ukrainian questionnaire on participation. Now Dima is waiting for the results of the first selection and hopes that its application will get the second. Dmitry contact with journalists not going, but without the recorder told Radio Liberty that his isolation is associated with the fear that suddenly the story of the flight will have continuation. Young people have already thought about what his life on Mars, and says that the most part of the problems likely to be psychological, because it is difficult to imagine life without earthly nature and people.
NO RETURN
Controversial Dutch initiative has caused much controversy. The thing is that the colonists that in 10 years will fly to Mars, doesn't return: at the present stage of development of space it is impossible. It is assumed that after 2023 every year on the Red planet will be sent to the four earth men (need to go 7 months), and after five years will create there a colony of 20 people. They will study the surface and subsurface of the planet, and on the Ground them all this time, will be broadcast reality show. This is no guarantee that the flight will fail and people will be able to live on Mars, nobody gives.
The first Ukrainian cosmonaut Leonid Kadenyuk irrevocable flight does not endorse: "In the space you need to fly, to work there and return home to Earth. People should not live on other planets constantly," says Kadenyuk. Dima he advises a lot to learn in order to have extensive knowledge in all Sciences, exercise and prepare psychologically.

Com-Eva: 1
You are reading news Украинец может полететь на Марс навсегда — гарантий его жизни нет if You liked the article Украинец может полететь на Марс навсегда — гарантий его жизни нет, prokomentiruet her.
| | |
| --- | --- |
| an html link to the article | |
| BB-link to the article | |
| Direct link to the publication | |