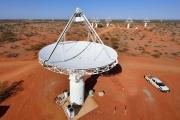 Australian scientists said that a huge new radio telescope in Western Australia will allow to penetrate much more of the far field of outer space and learn more about the evolution of galaxies.
Scientists expect to find about 700,000 new galaxies in 2013. The radio telescope is located in a remote desert area in Western Australia at a distance of 196 km from the port Geraldton. It includes 36 plates, each of which has a diameter of 12 meters, and who work together as a single antenna.
The radio telescope will also help astronomers to explore one of the greatest mysteries of the Universe is dark energy. It is a power which, according to scientists, causes galaxies to fly apart faster. Although scientists do not have any evidence of the existence of dark energy, it is considered to constitute 73% of the entire Universe.
The telescope will study the hydrogen in space, the fuel that forms stars, and will allow you to understand how galaxies have changed over the past 4 billion years.
To receiving stations, located between South Africa, Australia and New Zealand, this telescope will be the largest radio telescope in the world when it will start working in 2019.
In addition, the researchers will use a telescope to search for extraterrestrial life, although this is not its primary purpose.

Com-Eva: 0
You are reading news Австралийские ученые планируют обнаружить 700.00 новых галактик в 2013 году if You liked the article Австралийские ученые планируют обнаружить 700.00 новых галактик в 2013 году, prokomentiruet her.
| | |
| --- | --- |
| an html link to the article | |
| BB-link to the article | |
| Direct link to the publication | |