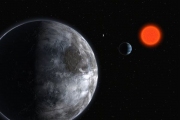 Courtney Dressing (Courtney Dressing), astronomer at Harvard University (USA), argues that red dwarfs are small, not too bright and hot star class M, with approximately three quarters of the stellar population in the milky way Galaxy, - have a very high probability of being a parent stars for planets similar in size to the Earth.
The gliz 581 may not be closest red dwarf planets of the earth's dimensions in the habitable zone. (Illustration ESO.)
Let's remind: comparative dull star class M not too often become the object of scrutiny. Thus, among the 150 000 stars, observed space telescope "Kepler", only 5 000 refers to this spectral class. However, as noted by Ms. Dressing, so-called zone of habitability for earth-planets (those she considers body radius of a half to two earth) around these faint stars must lie within our orbit of mercury is very close to the Central star. This makes their detection in principle, more likely, for such planets inevitably often pass between the drive, the red dwarf and the terrestrial observer. In addition, a small dwarf luminosity M-class means more drastic fluctuations in their luminosity at a time when the planet partially "outshines" drive its star.
It has allowed the astronomers to make statically important conclusions about the presence of planets around these stars, despite the fact that space telescopes see them many times less than sun-like, brighter light.
So, within about 5 000 red dwarfs M-class 3 609 chance 87% have a planet the size of 0.5-2 of the Earth in orbits of 50 days or less. Even more interestingly, 6% of red dwarfs observed "Kepler"has planets of this size just in the habitable zone. Given that such stars in the Galaxy from 150 to 300 billion, we are talking at least about 9 billion earth-planets in the habitable zone. In fact, these figures may be much higher as "Kepler" unable to search for planets in systems where the Ecliptic is strongly tilted relative to our own system.
Based on this shestiprotsentny the probability and of the number of red dwarfs in a zone close to the Solar system, must be at least one potentially habitable planet earth on distance no more than 20 light years from Earth, says the researcher.
At first glance, this conclusion may seem a little late, because the planet Gliz 581 c, g and d, orbiting a red dwarf the Gliz 581 20.4 light years from Earth, are already open, and all of them, presumably, are in the habitable zone. However, this work suggests the presence of such conditionally inhabited earth-planets and at distances smaller than 20 light years from Earth. Even our nearest Proxima Centauri (also class M) can have a planet in the habitable zone. Although, according to the latest data, its mass in this case will not be more than two earth.
The planet is so close sooner or later be discovered even relatively small ground-based telescopes, than the author of the work and intends to do in the near future.
The corresponding report was made on 8 January at the meeting of the American astronomical society in long beach, (California, USA).
Based on the materials of Nature News.

Com-Eva: 0
You are reading news Ближайшие к нам красные карлики имеют как минимум одну землеподобную планету в зоне обитаемости if You liked the article Ближайшие к нам красные карлики имеют как минимум одну землеподобную планету в зоне обитаемости, prokomentiruet her.
| | |
| --- | --- |
| an html link to the article | |
| BB-link to the article | |
| Direct link to the publication | |