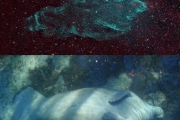 Astronomers have tested a major update of the Very Large Array telescope and discovered a strange remnant of a supernova that looks uncannily like sea cow (manatee).
W50 is one of the largest supernova remnants, with about 700 light-years in diameter, and covering two degrees across the sky (period of four full moons). This is a unique phenomenon was observed after a major update of the telescope.
Manatees are gentle giants long about 3-4 meters and weighing more than 500 kg They spend up to eight hours a day, pasas on pastures of marine plants. The remaining part of the day they're often on the back, putting his flippers on large bellies, in a pose reminiscent of W50.
A huge cloud of W50 formed when a star-a giant in the distance in an 18,000 light-years from Earth in the constellation of the eagle, exploded as a supernova about twenty thousand years ago.

Com-Eva: 0
You are reading news Астрономы обнаружили космическую туманность, которая выглядит как морская корова if You liked the article Астрономы обнаружили космическую туманность, которая выглядит как морская корова, prokomentiruet her.
| | |
| --- | --- |
| an html link to the article | |
| BB-link to the article | |
| Direct link to the publication | |