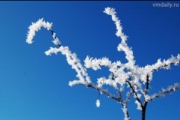 At night the temperature falls to minus 27 degrees Celsius. According to information of the national weather Czech Republic, last night was marked record low temperatures in many regions of the country. So, in Ko?enov-Jizera the temperature dropped to minus 27,8 C, and in Yelena air temperature was minus 26,6, Bedrichov minus 22,4.
As the press-Secretary of the medical rescue services in the Liberec region Lenka Markovich, in the locality of Plav-on-Jablonec was the first victim Morozov - 67-year-old man died of hypothermia in the body.
Meteorologists warn that the nearest night in the Czech Republic will also be very cold, RIA "Novosti".
Due to the beginning tonight powerful snowfall in Slovenia stopped traffic on most roads.
According to the national Agency of the environment, for a few hours in the country fell from 20 to 50 cm of snow. The most difficult situation is in the southern areas, where the amount of snow reaches 0.5 meters.
Because of the snow drifts and stuck truck stopped traffic on the highway connecting the capital Ljubljana with the Adriatic coast of the country. The total length of traffic jams here already reached several tens of kilometers. In the snow captivity were hundreds of people. The situation is complicated by the strong wind, the speed of which the gusts of more than 100 km/H.
As the representative of the Agency, improvement of the situation is not expected until the end of today". In his words, "today can be set a record by fallen in southern areas of snow".
ITAR-TASS Dmitry Ivanov

Com-Eva: 0
You are reading news Рекордные морозы в Чехии и снегопады в Словакии if You liked the article Рекордные морозы в Чехии и снегопады в Словакии, prokomentiruet her.
| | |
| --- | --- |
| an html link to the article | |
| BB-link to the article | |
| Direct link to the publication | |