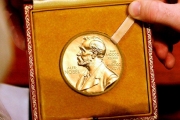 In the capitals of Sweden and Norway today will be held the presentation ceremony, a festive Banquet for guests and winners that will be the culmination of the Nobel festivities. In the field of medicine and physiology, this year the awards Briton John Gordon and Japanese Xingyi Yamanaka, who opened the process of reprogramming adult cells into stem cells.
In section physics" prize was awarded to the American David Vineland and the Frenchman Serge Arocha, the student the fundamental interaction between matter and light in the field of quantum optics. Experiments scientists have made possible the monitoring and control of individual quantum systems without their destruction.
In the field of chemistry award went to the Americans Brian Kobilka and Robert Lefkowitz for research receptors G-proteins that provide the ability of cells to feel the environment and to adapt to it.
Nobel laureate for literature was the Writer Mo Yan from China, that was the first time in the history of the award. The award went to him for the unification of stories, tales and modern, with hallucinations realism.
Americans Lloyd Chaple and Alvin Mouth will receive the premium of the state Bank of Sweden memory of Alfred Nobel for the development of the practice of simulation markets and the theory of stable distributions, as well as for the study of how best to connect with each other by various factors, for example, school and children, organ donors and patients in need of transplant.
The winner of the peace Prize for the development of peace initiatives and democracy on the continent became the European Union. This choice was received with enthusiasm by many official heads of state, but at the same time critically - some politicians, ordinary citizens and public figures in the EU.

Com-Eva: 0
You are reading news Названы лауреаты Нобелевской премии 2012 if You liked the article Названы лауреаты Нобелевской премии 2012, prokomentiruet her.
| | |
| --- | --- |
| an html link to the article | |
| BB-link to the article | |
| Direct link to the publication | |