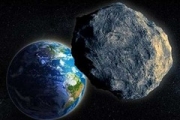 After December 21, it is the end of the world, scientists have published one more good news for the future of humanity, saying that the asteroid 2011 AG5 is no threat to the Earth.
NASA has reduced the potential threat of asteroid 2011 AG5, approaching the Earth, with a diameter of 140 metres. New observations of astronomers has revealed that the asteroid 2011 AG5 no longer poses a significant risk of collision with the Earth. Scientists previously stated about the potential risks of collision with an asteroid in 2040 after monitoring the trajectory of the asteroid from the Gemini Observatory on mount Mauna Kea, Hawaii.
Thanks to new data from the orbit of the asteroid, in February 2040 it will be at least 890.000 km from the Earth, more than double the distance to the moon and remains just a "potentially dangerous object.
Although not significantly different from the previous conclusions, the updated trajectory of the asteroid 2011 AG5 still reduces the probability of collision of more than 60 times, which means that the position of the Earth in February 2040 less likely falls within the range of possible ways collision with an asteroid. 2011 AG5 was removed from the table of risk "Sentry" and has a rating of 0 on the Torino scale.

Com-Eva: 0
You are reading news Астероид AG5 2011 больше не представляет риска для нашей планеты if You liked the article Астероид AG5 2011 больше не представляет риска для нашей планеты, prokomentiruet her.
| | |
| --- | --- |
| an html link to the article | |
| BB-link to the article | |
| Direct link to the publication | |