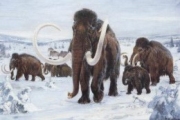 In Yakutia found suitable for cloning cells mammoth. During paleontological expedition the scientists discovered cells, which can be cloned a prehistoric animal, news agencies reported.
International paleontological expedition "Jan-2012" was held in August in Ust-Yana region. It was attended by specialists from Russia, Sweden, England, Korea, USA, Canada.
The discovery made at a depth of 100 meters and represents a wealth of material for research - soft and fat tissue, hair, bone marrow of a mammoth.
The living cells of the mammoth has sparked the interest of one of the participants of the expedition, Professor, head of the Korea Foundation Sooam Biotech Hwang Woo-Suk. According to the researcher, find can be used for cloning.
In may 2012 British scientists have discovered a new species of mammoths, which from their kin differed miniature size.

Com-Eva: 0
You are reading news В Якутии нашли пригодные для клонирования клетки мамонта if You liked the article В Якутии нашли пригодные для клонирования клетки мамонта, prokomentiruet her.
| | |
| --- | --- |
| an html link to the article | |
| BB-link to the article | |
| Direct link to the publication | |