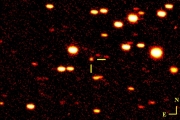 Show century awaits us in 2013, according to astronomers.
It is expected that a newly discovered comet will pass extremely close to the Sun and arrange a real show for astronomy lovers from all over the world.
We are talking about comet C/2012 S1 (ISON), which was discovered on September 21, 2012 astronomy Amateurs Vitaly Nevsky (Vitebsk, Belarus) and Artem Novichenko (Petrozavodsk, Russia, Petrozavodsk state University). observers discovered this comet with 40-cm reflector mounted on the Observatory project ISON (International Scientific Optical Network, the international Scientific Optical Network) near Kislovodsk, Russia.
At the opening of the comet was 18 magnitude (which is not available for visual observations in Amateur telescopes, but possible CCD shooting) and was in a coma with a diameter of 50 thousand kilometers.
"The object was very slow and was moving quite unusual. At the opening, we were still not sure that this comet, because the object was very compact, and our tools are not very powerful," said Artem Novichonok.
Comet ISON will be visible even from the Earth without binoculars from the beginning of November 2013 January 2014. The Rover "Curiosity" will also be able to watch this comet from Mars in early October 2013.
It is expected that this "Great Comet approaches the Sun at a distance of 1.1 million kilometers 28 November 2013. if she survives, she will become the brightest comet ever seen from Earth.

Com-Eva: 0
You are reading news В 2013 году нас ждет кометное шоу if You liked the article В 2013 году нас ждет кометное шоу, prokomentiruet her.
| | |
| --- | --- |
| an html link to the article | |
| BB-link to the article | |
| Direct link to the publication | |