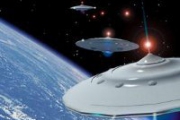 For some time now in the USA is popular online service We the People. Since its opening on its pages were issued and filed more than 140 thousand different petitions. Some of them are, frankly, ridiculous. For example, some Americans really require from the White House and President Obama to declassify all records of contacts with alien civilizations, confirm the existence of Bigfoot and whatnot.
However, the government would not be a government, if from the start revealed all its secrets. The requirement to inform the earthlings with the aliens living among them, high officials replied that do not have reliable evidence. It is the expected answer.
The petition in support of Bigfoot, demanding to recognize its existence and to provide him with legal protection from hunters, gathered about a thousand voices, so unlikely to be awarded official attention. Have a snow man to dispense patronage of the White House.
All this psychologists look from a professional point of view and say: "People do not have enough miracles". Perhaps they are right.

Com-Eva: 0
You are reading news Обама, расскажи нам про инопланетян if You liked the article Обама, расскажи нам про инопланетян, prokomentiruet her.
| | |
| --- | --- |
| an html link to the article | |
| BB-link to the article | |
| Direct link to the publication | |