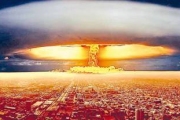 2500 Semipalatinsk Herosim generals and academics describe in their books as "scientific feat" and "overcoming". I speak on behalf of ordinary people who brought to these exploits.
Such a service
In April 1960 Barnaul anti-aircraft missile regiment was raised the alarm and is aimed at the Semipalatinsk polygon. For rocket scientists around was plain steppe. For the management of the landfill - explosive field for the testing of nuclear weapons. Each Agency had fulfilled its task and is not considered necessary to warn people about that.
By the autumn of 1960 in the places of dislocation of military divisions builders built barracks and residential houses. Officers offered to take the family to a new place of service. My father was in the fifth anti-aircraft missile division. In our language it is called "point".
Our family lived on the spot and the 30th site landfill from 1960 to 1968.
In 1961-1962 years in Semipalatinsk, the Soviet Union held the most powerful in the world series of open nuclear explosions. For two years on the Experimental field was carried out 72 nuclear test.
At the time of the explosion families missile was ordered to open the doors and Windows, to leave the premises, move away from buildings at a safe distance. Many times we stood away from their homes and looked at blinding flash and a cloud explosion. Seen rising mushroom and the fire spray. Heard the roar and felt the shock wave. The shock wave of a nuclear explosion every time beat out glasses in houses and barracks.
Supply division in the immediate vicinity of blasting fields of nuclear polygon was a crime, especially settle back women and children. Even before the most powerful in the history of the series of open nuclear explosions. Perhaps, in a civilized country this would not be possible. But in our country such "miracles" are not uncommon. We lived and rested there, where dosimetrists walked only with devices.
"What are you doing here?!"
In 1962 came to us some top brass. String of black "Volga" stopped right on the spot. I saw women and children:
- What are you doing here?
- We live here.
- Immediately get in the car, soon to be a blast!
He put us in the "Volga" and rushed to Kurchatov. Drove to the town when the blaze broke out the explosion.
A neighbor girl Natasha Kabanova fell on the seat and closed his face with his hands.
What is wrong with you girl?
- Uncles, close the face, and then shrapnel cut!
"Don't be afraid girl, here is already dangerous.
Had they landed us near the hotel. We spent the night and in the morning went to learn how to get home.
Then there were a whole series of tests. Many times we were in front of their houses, staring at the burning sky above the site of "sh". Was waiting for that knock out the window of our apartments. Heard screeching roar of a nuclear explosion. But most of us no one was interested. Only sometimes came dosimetrists, silently held their measurements, Yes harsh security officers were reminded of the need to remain silent forever.
I have not fulfilled their instructions.
Our "point"
Our point was located 30 kilometers from the city of nuclear power engineers. That at different times and in different situations was called Moscow-400, Beach Destination, Semipalatinsk-21, Kurchatov.
18 kilometers from us was a ground "W", and just behind the famous Experimental field. It produced nuclear explosions in the atmosphere. Still no one knows how many times there was detonated bombs. Some consist of 123, others just 116 explosions. In any case, there were many of them.
The Central place at the "point" was the starting position. Anti-aircraft missile complex s-75 in those days was modern and powerful weapon. He saw around for hundreds of kilometers, and tens of kilometers could shoot down any plane that time.
In addition to the positions we had four chetyrekhyadernykh residential house, barracks of soldiers, boxes for cars, storage of missiles, checkpoint and several outbuildings. Everything was fenced by a two-meter fence of barbed wire.
The population was approximately 60 soldiers, a dozen officers and more than a dozen civilians - women and children of officers.
The way of life was simple. Military duty and served technique, and the family was waiting for them at home. Around for tens of kilometers was desolate: snow frosty winters and hot dry summers.
The life of the adults were subordinated to the service. The air defense forces - forces of permanent readiness. If there's hundreds of miles of foreign aircraft went to the border, division raised the alarm. Wailing siren, messenger drummed out of the window: "Comrade Lieutenant, readiness number one!"
Duty, teachings, anxiety, trips to the landfill, maintenance - it took the lives of the fathers, almost without a trace. While we were there, it was all a background of our lives. We played "alarm". It seemed to us that the way it should be.
Everyday life
The water was imported. Every day in Kurchatov went machine-a water-carrier. The same vehicle was brought and two-wheeled prizepool with bread. Water was not taken off. But to water the trees, the water always found. Electricity produced diesel. In 23 hours and domestic diesel off, and it wasn't light until the morning. Frequent explosions, the sirens alarm, harsh climate, lack of water - living conditions were harsh.
In the output sometimes went "civilization" in Kurchatov shops. Now they certainly would not have produced the impression. But then it was called "Moscow supply". There was even a canned meat and condensed milk! In Kurchatov drove and children to school. Sometimes chosen just walk in the city.
The most interesting place on "point" for us, children, was a dump. There were almost the whole vehicle, a lot of different equipment, bags of colored wires and other riches.
Rocket division had crawler tractors, and polygon officials often asked to help in the removal of machines from the test field. Before the explosion in the steppe built multi-storey houses, bridges, even metro station. He put up a different technique. Blast all this was being destroyed and scattered... something was broken completely, something only slightly damaged.
About radiation we explained in detail after Chernobyl, and then economic craftsmen were brought to us a lot of valuable good: parts for machines, batteries, cable, and different mechanisms.
To remove and to plough
Also it was interesting to go to the position. Sometimes we ran, but often ignored. Our fathers and soldiers tinkered with missiles and launchers, and we spent hours sitting somewhere on the parapet of the trench and watched them.
In the barracks we too were his people. Then the soldiers have served for three years, many were missing home, is your native brothers and sisters. With us willingly talked, were treated with sweets and biscuits. In the barracks in the evening on Saturday, they played the movie. It was a cultural event for all residents.
Every year planted watermelon plantation - "under the thumb". The heel of the boot, you should be picking on the ground, throw the seed, toe to fall asleep. If the time has come rain - Arbuzov was full. If it was not raining, nothing grew. With this plantation once appeared case: Arbuzov in the year increased visible-invisible. But when another nuclear explosion was an emergency. Cloud explosion not sailed far away, and it's rain on the plantation. Command issued an order to prepagate melons. And that was done. But first carefully collected all watermelons.
At all relevant to radiation was easy. Knew she was there. But if the command does not beat the alarm, then everything is normal.
Radiation has no taste and color. Basically, it causes a worsening of the sores. Someone opened the plague, someone began to go the blood from his nose, someone at work lost consciousness. It was connected with a number of other reasons, but not the main one. Much later I looked at the pictures of the parents of those years:
And - it shows that you were sick!
- Yes, probably, only we didn't know it.
Explicit disease came later. Often away from nuclear testing site.
What ended
Father served in the army for 32 years. Finished already in Transbaikalia. After retirement they're back in Semipalatinsk and lived there for many years. Only in 2003 moved to the children and grandchildren in Russia.
In Kazakhstan father and mother were considered victims of nuclear tests. Had they received money for treatment and support.
After moving took his Kazakh field of identity and went to the local administration - to exchange them for Russian. But there it was. The clerk shouted at them:
- What do you me here Kazakh paper hectic! I'm Russian say, in Kazakhstan there were only two harmful town and some villages. What stupid people! Go out, do not get to work!
By the way, in Russia the list of victims strange. In Rubtsovsk border hit zone goes along the street. Even at home, the victims, the odd - no. Poured forth on all 40 years, and it must be the same as the officials just counted!
I insisted and asked parents and in special risk units. Father refused immediately: "Your part does not obey the ground". Mother worked at the research centre - the heart of the polygon. She disability due to nuclear tests at the Semipalatinsk test site. She also refused. He explained: "You have not worked directly with nuclear charge.

Com-Eva: 0
You are reading news Молчать вечно! if You liked the article Молчать вечно!, prokomentiruet her.
| | |
| --- | --- |
| an html link to the article | |
| BB-link to the article | |
| Direct link to the publication | |