Hypothesis , Cosmos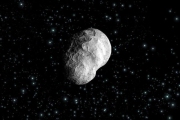 NASA scientists now believe that an asteroid "Apophis" will not threaten the Earth during the subsequent migration in 2036. Integrating data from 2011 to 2012 after new data obtained through observation of the asteroid during its flyby of Earth last week.
They concluded that there is no chance that he might collide with the Earth. Since then, as "Apophis" was first discovered in 2004, initial estimates of its trajectory showed a 2.7% of collision probability with the Earth during the close approach in 2029. Although later research and ruled out that option, scientists fear that a collision could occur during the next flyby of asteroid in 2036.
However, thanks to new data from the optical observatories Magdalena ridge and Pan-STARRS, along with the latest data of the telescope "Goldstone, scientists are actually excluded the possibility of collision of an asteroid "Apophis" with Earth in 2036.
According to new calculations, the chances of a collision does not exceed one in a million that makes possible to exclude a probability of collision with the Ground.
Next time, "Apophis" will pass by the Earth at a distance of about 19.400 km

Com-Eva: 0
You are reading news Ученые уверены, что астероид «Апофис» не столкнется с Землей в 2026 году if You liked the article Ученые уверены, что астероид «Апофис» не столкнется с Землей в 2026 году, prokomentiruet her.
| | |
| --- | --- |
| an html link to the article | |
| BB-link to the article | |
| Direct link to the publication | |