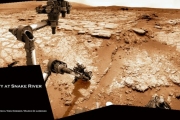 Mission experts "Curiosity" choose a new target in the Gale crater for drilling and new sampling.
Technical ground crew "Curiosity" chose rocky mouth of the snake river "Snake River" for the next drilling Martian surface in a great Gale crater.
Mosaic slozhnosostavnyh the photo above was taken on January 5, 2013 on the basis of multiple photos (Sol 149). Here the Rover "Curiosity" is in the Martian terrain Yellowknife Bay, where there are petrified mouth of the river "Snake River". The pictures were taken with the camera Navcam.
Technical team "Curiosity" is going to use a drill, mounted on a hand-manipulator of the Rover in the near future.
The exact date of drilling rocks in this Martian region will be communicated to representatives of NASA this week. In anticipation of this, the Rover "Curiosity" look around, carefully studying the area and makes it panoramic images.
As reported by scientists mission "Curiosity", drilling mountain Martian rocks underlies the entire mission and has historically important.
After the Rover carries out drilling, he makes a sampling of soil particles, sifts his sieve, and then performs SpectraLine-chemical analysis of the samples with the help of its alpha-spectrometer.
"With the help of the analysis of collected samples of Martian soil we are slowly put a huge puzzle and open many secrets and mysteries of the distant red Planet", which is at a distance of 55,76 million miles from our own planet.

Com-Eva: 0
You are reading news Новая цель для бурения «Курьозити» if You liked the article Новая цель для бурения «Курьозити», prokomentiruet her.
| | |
| --- | --- |
| an html link to the article | |
| BB-link to the article | |
| Direct link to the publication | |