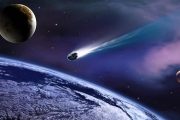 On the calculation of scientists, astronauts, February 15 at 21:25 on Kiev time asteroid 2012 DA14 will fly at a minimum distance from the Earth.
Cosmic body found 23 February 2012 Spanish Observatory La Sagra, the diameter of which is about 45 meters, and weight - about 130 thousand tons will fly at a distance of about 27,7 thousand kilometers from the Earth's surface, which is below the orbit of geostationary satellites. While the asteroid is moving at very high speed is about 12 miles per second.
Earlier calculations showed that the distance at which will fly the meteorite was considered to be more distant from the planet (approximately 800 kilometres further), and therefore, more secure. However, scientists say that any danger to the planet, asteroid and does not represent the collision with the Earth impossible.
Calculations of the Spanish Observatory also confirm scientists from France, Italy and the USA.
Scientists have calculated, in the case of falling of an asteroid to Earth, the explosion was equal to 2.4 the megatons of TNT, which would be enough for the complete destruction of all life on the planet.
After passing near the Earth's orbit, orbit of a heavenly body will not change, but his next "visit" is expected on February 16, 2056 a distance of approximately 1 million kilometers, and then on 16 February 2089 year - approximately 3.5 million kilometers.
More of close approaches to the Earth within the next 100 years are expected.
Asteroid 2012 DA14 belongs to asteroids family of Apollo, that is, those that cross the orbit of the Earth.

Com-Eva: 0
You are reading news В феврале возле орбиты Земли пролетит астероид if You liked the article В феврале возле орбиты Земли пролетит астероид, prokomentiruet her.
| | |
| --- | --- |
| an html link to the article | |
| BB-link to the article | |
| Direct link to the publication | |