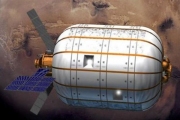 The prototype inflatable space module will be tested aboard the International space station, which was recently announced at NASA. Inflatable module describes the American scientists as a key component of future projects for exploration and development of commercial space travel and exploration.
It is designed by Bigelow Aerospace, located in Las Vegas, and will cost $17.8 million Lori Garver, Deputy administrator of NASA, says that inflatable module simultaneously combines advanced technology and accessibility, but also represents a step forward in advanced technologies that will allow people to conquer outer space safe and inexpensive, and marks an important progress in U.S. commercial space innovative projects.
Two or more inflatable modules can be linked together to provide additional working and living space. The stated objective of the project is "to provide affordable options for flights national space agencies and corporate clients".
Previously, the company released two other inflatable module, but it will be the first time he will be tested as part of a manned spacecraft.

Com-Eva: 0
You are reading news НАСА отправит на орбиту надувной космический корабль if You liked the article НАСА отправит на орбиту надувной космический корабль, prokomentiruet her.
| | |
| --- | --- |
| an html link to the article | |
| BB-link to the article | |
| Direct link to the publication | |