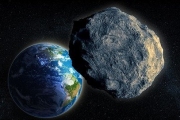 The probability that the Earth will collide with an asteroid, is one chance out of 250 thousand. This is the official evaluation of scientists from the American space Agency NASA. But scientists say that in fact this is quite a high probability.
The essence of the forces of all the scientists from NASA thrown on research and the fight against asteroids, each of which can pose a potential threat to Earth. However, the most dangerous is known asteroid 99942 Apophis, which will fly on a very dangerous distance from the Earth in 2029. The diameter of the asteroid - half a kilometer, and weight - 46 million tons. "If he collapses to the Ground, catastrophe, when he destroyed the dinosaurs seem child's play", say researchers at NASA and warn that to prepare for "the war" with the asteroid and its "brothers" in advance, that is now. However, scientists believe that Apophis will still fly past the planet and will not affect her, but there is a possibility that under the influence of the gravitational field of the Earth asteroid will change its trajectory, and then all might end.
According to NASA Lindley Johnson, for a detailed study of the behavior of asteroids and track them into space you need to run another powerful telescope, because Hubble one can't cope with such a workload. "The most asteroids have complicated orbits, and most of the way is in space far away from Earth. So watch them with long distances"adds Johnson. According to him, the telescope should be placed in earth orbit, and on the orbit of Venus, however, such a project for NASA will cost $ 1.1 billion, which yet. Just NASA trying to develop a single solution fight against asteroid and planetary protection in case of their unpredictable behavior. Only in the last two years have put forward two fundamental ideas against asteroids.
One of them is set in earth orbit lasers and firing "enemies", and the other to stop Apophis using the so-called giant solar sails. As explained by the author of the idea, Professor of Tsinghua University, in Beijing, SanPiN Gong, attaching solar sail width 500 m to Apophis, a year before his meeting with gravitation pit in the Ground and using it as a tug, scientists reject the trajectory of astroid by a sufficient margin to avoid danger.
Note, concerned scientists note, although the probability of a catastrophe ghostly, but at the same time large enough. According to them, if Apophis still hit the world, the impact of the crash will be massive, so they start to act now.

Com-Eva: 0
You are reading news Американцы уже готовятся спасать землю от астероида который возможно прилетит в 2029 году if You liked the article Американцы уже готовятся спасать землю от астероида который возможно прилетит в 2029 году, prokomentiruet her.
| | |
| --- | --- |
| an html link to the article | |
| BB-link to the article | |
| Direct link to the publication | |