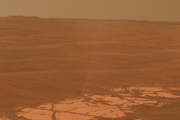 Clay minerals, rocks, which are usually formed when water is present for a long period of time in the same place cover a larger part of the surface of Mars than previously thought.
Scientists from the Georgia Institute of Technology have discovered minerals with the help of spectral analysis received from the spacecraft Mars Reconnaissance Orbiter.
Clay sediments near the crater Needles are very small, especially in comparison with those that have been discovered around and inside the endeavour crater. Experts believe that clay could be more abundant in the past, but the volcanic history of Mars, probably destroyed a part of it.
Now scientists expect pictures of rocks with a panoramic camera and an analysis by spectrometer, to try to determine the composition of the layers of rocks. According to them, if they find the opportunity to sample and examine it closer, you will be able to determine the composition of the rocky breeds and the history of its formation, for example, in a deep lake, pond or in the small volcanic systems.

Com-Eva: 0
You are reading news Ученые продолжают находить доказательства наличия воды на Марсе if You liked the article Ученые продолжают находить доказательства наличия воды на Марсе, prokomentiruet her.
| | |
| --- | --- |
| an html link to the article | |
| BB-link to the article | |
| Direct link to the publication | |