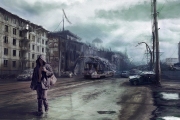 Donetsk Donbass TV channel is planning to note "end of the world" direct ether. From 17.30 to 19.00 on the Central square of Donetsk in the show program Donetsk-Live everyone TV channel is calling to meet the transition of the Universe from one phase to another, according to the website of the media.
"The participants of the nationwide show Donetsk-Live. The end of the world live will reveal the secrets of predictions with astrologers, look in the happy future Gypsy eyes away all the bad dancing shaman, enjoy an invigorating tea, close to the stars through a telescope, will develop the discussion of salvation and survival", - reported in the announcement of the channel.
The show participants also offer a look at the world-famous fire-show, to learn from extreme fight fear, to take part in the unique experiences, learn how positively the end of the world meet in different cities and countries, to hear the truth from passers-by about the latest desires and hopes for last.
Recall that December 21 - day, which completes the ancient Mayan calendar. This event caused a stir worldwide. According to surveys, many people really believe in the coming of the Apocalypse.
Earlier it was reported that public opinion polls on the eve of December 21, when, according to the Mayan predictions that can supposedly come the end of the world, show that people in Ukraine do not trust in the sudden death

Com-Eva: 0
You are reading news Донецкий телеканал отпразднует "конец света" в прямом эфире if You liked the article Донецкий телеканал отпразднует "конец света" в прямом эфире, prokomentiruet her.
| | |
| --- | --- |
| an html link to the article | |
| BB-link to the article | |
| Direct link to the publication | |