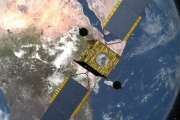 New powerful telecommunication military satellite was launched into orbit by the United Kingdom. 5-ton platform "Skynet-5D" was launched on a rocket Ariane from Kourou in French Guiana. He will join three other satellites, which are already in operation, and will allow British troops to stay in touch on the most part of the globe.
System "Skynet", which includes radio equipment installed on ships, vehicles and soldiers, is the biggest project in the UK. It is estimated 3.6 billion pounds and will be developed for 20 years and is run by a commercial company Astrium in cooperation with the Ministry of defence.
Ariane took off exactly at 18:49 local time. After reaching orbit, the satellite will use its own propulsion system to go into geostationary position at the height of 36.000 km Best working position at the beginning of next year will be at the level of 53 degrees East longitude.
The first three ships in the series Skynet were launched in 2007-2008. They all meet the highest level of complexity civil platforms used for transmitting TV, telephone and Internet traffic and gone
"test" for military use.

Com-Eva: 0
You are reading news Великобритания запустила на орбиту военный спутник «Skynet» if You liked the article Великобритания запустила на орбиту военный спутник «Skynet», prokomentiruet her.
| | |
| --- | --- |
| an html link to the article | |
| BB-link to the article | |
| Direct link to the publication | |