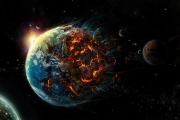 Contrary to the expectations of millions of people around the world, today is the end of the world has not occurred. The end of the world in the world yet predicted the end of the world in Ukraine was to come at 08:00 in the morning, and according to some reports, around 10:00.
However, nothing neither in Ukraine, nor in any other country in this period did not happen. It was expected that with the coming of the Apocalypse in the world will disappear all the light and maybe a sound. In some versions, the Earth was supposed to be a giant asteroid, or the planet would have seized the zombies. However, as of Friday morning yet these messages were not received.
Recall that the reason for increased attention to this date was the end of the ancient Mayan calendar. Millions of people around the world were preparing for the coming of the Apocalypse, a long time hoarded stocks of food, petrol and weapons. Some have undergone special courses of survival.
Thousands of people flocked to the Holy places of the ancient Maya to meet the end of the world there. Tourist fever covered several countries in the region, including Mexico, Guatemala, Honduras. On Thursday, hundreds of people took part in the mass looting of supermarkets in the city of Bariloche, on the South-West of Argentina, and in the capital of the South American country radical leftists forces blocked the traffic in the city centre and set fire to tires. Panic swept over some American States.
In Michigan Christmas school holidays started ahead of time. According to local media, December 20, because of concerns about "end of the world" lessons not send thousands of children.

Com-Eva: 0
You are reading news Конец света в мире не наблюдается if You liked the article Конец света в мире не наблюдается, prokomentiruet her.
| | |
| --- | --- |
| an html link to the article | |
| BB-link to the article | |
| Direct link to the publication | |