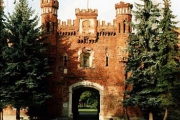 An ancient fortress, especially those that have been preserved in its original form, known as the rule, not its architecture, and the obligatory presence of secrets and mysteries. The vast majority of these buildings are located in Europe. But in the post-Soviet territory are found prosecutoraa structure. Famous Ukrainian and Belarusian castles with ghosts.
In the Odessa region in city Belgorod-Dnestrovsky is the ancient fortress with the underground tunnels. Moreover, even in the archives of the city not preserved data about who and when built it.
Local residents say that with some time of underground tunnels began to appear unusual horned creatures. Historians managed to collect a lot of Luggage local stories and legends.
In one of the sources, dated 1657 year, Turkish traveler writes that when cleaning the moat around the castle, the soldiers of the Ottoman Empire found the entrance to the cave, and in her skull and bones from the mind of man, but of enormous size. Then the soldiers returned the remains in place, and refilled the entrance.
The first information about the horned smelling creatures appeared in the second half of the 20th century. Local teenagers during the night fishing at the walls of the fortress saw a humanoid figures with horns were on the fortress wall. Another time, a pensioner argued that in the garden from a neighbor saw horned figure. In the morning it turned out that almost all the apples with apples were stolen. And the driver of the truck transporting the bread, said that his van cleaned out all the same "underground Bonucci". And many such evidence gathered by the regional specialists.
Put forward different versions. Someone said that it might be Romanian soldiers, deserters, hidden in underground tunnels in the times of the Second World war. And horns - it's just such a cover of soldier of pilotos. This version is highly questionable.
Another version was that horned creature or mutants either side of the human branch. Unfortunately, to prove it or disprove that is required of the skeletal remains found once by Turkish soldiers.
And about the alien origin of Vanicek" also nothing says.
Meeting with horned creatures stopped after the earthquake in this area in the late 60 X. Then many tunnels collapsed, and being able to die under the rubble.
Another mystical fortress Brest-Litovsk in Belarus. Its history is the history of the legendary defenders, have constrained the first blow of the German army in June 1941. Later, when the fortress was put in its walls were massively destroyed local residents and defenders.
In place of the destroyed back in 1915 Fort, belonging to the Brest-Litovsk fortress, still find human remains and ammunition. In the place where once were killed hundreds of Soviet soldiers and local residents, now often observed strange glow, shapes, and visitors feel groundless panic.

Com-Eva: 0
You are reading news Таинственные крепости постсоветского пространства if You liked the article Таинственные крепости постсоветского пространства, prokomentiruet her.
| | |
| --- | --- |
| an html link to the article | |
| BB-link to the article | |
| Direct link to the publication | |