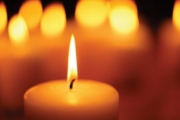 Ukrainians buy all necessary before the Apocalypse. Because of this, some goods have risen in price several times.
For example, in Zhytomyr on the market price of candles and lanterns grew two to three times. If earlier the candle was worth two grivnas, now it will have to pay for five or six hryvnyas.
"Rose and matches, lighters and lanterns, especially those on batteries - their price now is not 6 UAH, and from 8 to 12 UAH per flashlight, however, according to sellers, candles buy more often, because it is much cheaper" - told in the administration of the local market.
In Sumy also massively buy candles, and more - places in shelters. And in Ternopil oblast on December 21 all who wish for a certain amount propose to meet in an ancient cave. Even the Ukrainian celebrities succumbed own panic: a bomb shelter for themselves and their family and friends built Irina Bilyk.

Com-Eva: 0
You are reading news В Украине перед концом света массово скупают свечи и спички if You liked the article В Украине перед концом света массово скупают свечи и спички, prokomentiruet her.
| | |
| --- | --- |
| an html link to the article | |
| BB-link to the article | |
| Direct link to the publication | |