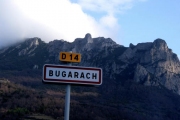 The gendarmes even patrolled the area with air - helicopters. Mountain Byugarash AFP, the French no one will be allowed to aliens In the small French village of Bugarash, where if you can survive the Apocalypse, just two streets and 150 people. To civilization from here - fifty kilometers.
Bread is brought twice a week, and grocery stores do not. However, here come the tourists, according to a story TSN, and the TV people in General are storming the village since the summer - that's when several religious sects announced Byugarash place of salvation from the end of the world. The reason was the mountain of the same name. Towering over the village peak called inverted - it's the tip of the ancient foundations.
Geological paradox made Byugarash popular among occultists from all over the world. According to some hypotheses today, on the day of the Apocalypse, the mountain must come aliens and save the elected earthlings. Such alien rumors, it seems, scared the French police. Hundreds of law enforcement officers in the morning before December 21, blocked all the way to salvation. Patrols watching each leading to the mountain path, and the gendarmes fly over Bygarasjen helicopters.
The exact time of the visit, the alien is not known, but the place determined accurately. The ship had to sit down on the very top of the mountain. To be there if you listen to those who believe in the legend, it is necessary in advance, as long alien saving mission will not wait.

Com-Eva: 0
You are reading news Во Франции полиция перекрыла все дороги на "гору спасения" от Апокалипсиса if You liked the article Во Франции полиция перекрыла все дороги на "гору спасения" от Апокалипсиса, prokomentiruet her.
| | |
| --- | --- |
| an html link to the article | |
| BB-link to the article | |
| Direct link to the publication | |