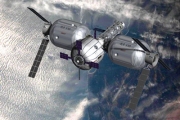 NASA signed a commercial company Bigelow Aerospace production agreement inflatable module, which will become part of the ISS. During its development the company received from space Agency 17.8 million dollars.
The primary objective of this project is demonstration of the prospects of using inflatable modules. Then the module will be used in the daily work of the ISS. NASA said that previously, the Agency had not used inflatable structures in the work of the space station. More information will become known after the press conference, which will be held on 16 January at the headquarters of the company Bigelow.
Representatives of the developer has stated that the module Beam is similar to the previously tested Genesis 1 and 2, which were launched into orbit in 2006 and 2007 At NASA say that inflatable module will be tested within two years, and only after that he can be available for exploitation.
The company Bigelow Aerospace working on the creation of a space inflatable modules, which provide extra space for the human presence in space. The company representatives said that they are ready to cooperate both with commercial organizations and national agencies.

Com-Eva: 0
You are reading news Надувной модуль появится на МКС if You liked the article Надувной модуль появится на МКС, prokomentiruet her.
| | |
| --- | --- |
| an html link to the article | |
| BB-link to the article | |
| Direct link to the publication | |