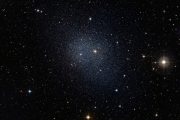 NASA officially announced that the Agency becomes a member of the program Euclid European space Agency (ESA). In the framework of this program in 2020 on earth orbit will depart the space telescope, with which scientists astronomers will be engaged in the exploration and study of such mysterious phenomena as dark energy and dark matter.
Part of NASA in the project Euclid will be expressed in the delivery of 16 infrared sensors and several hosts for one of the two scientific instruments that will be a part of the telescope Euclid. In addition, the consortium Euclid Consortium will consist of 40 specialists and scientists from NASA. In the end, an international consortium Euclid Consortium will consist of 1000 scientists, who will observe the course of the program Euclid and participate in the processing of the acquired scientific data.
Scientists-astronomers believe that the share of the usual "normal" matter that you can see and which can be touched, account for just 4 percent of the total amount of matter in the Universe. The remainder is the share of dark matter and dark energy, a mysterious factors determining some unusual phenomena observed in the cosmic depths. Of particular interest to scientists is dark energy, which causes the emergence of some of the forces by which the universe is expanding at an accelerating pace. Scientists expect that the telescope Euclid will allow them to look at the "dark" side of the universe and find answers to some intriguing questions.
After launching into space and the position in Lagrange point 2 of a gravitational system the Earth-the Sun, 2160-pound telescope Euclid will spend six years, studying and mapping 2 billion galaxies, located in different corners of the Universe. Watch for these galaxies and their distribution in space should help astronomers understand how the accelerating expansion of the Universe has changed over time. These and other knowledge are crucial insights into the nature of dark matter and dark energy.
According to preliminary calculations, the realization of the mission Euclid will cost ESA in 606 million euros. NASA is also considering the possibility of realizing their own similar mission for research dark side of the Universe, the mission's Wide-field Infrared Survey Telescope (WFIRST). If the mission WFIRST will get the green light and the necessary funding in the amount of 1.5 billion dollars, its implementation will not start earlier 2025.

Com-Eva: 0
You are reading news NASA будет изучать темную материю if You liked the article NASA будет изучать темную материю, prokomentiruet her.
| | |
| --- | --- |
| an html link to the article | |
| BB-link to the article | |
| Direct link to the publication | |